Syndicate Murder Mystery Experience
Murder mystery parties are not simple in their very nature, and in the hands of Dan Mulligan and myself it flourishes into an experience lasting over the course of several months leading up to Halloween 2014. We analyzed our audience, tried to figure out the best way to engage them, and had a lot of fun evolving the standard murder mystery game format. I hope you enjoy the evolution of our little project.
Step 1: Looking into the Abyss
Most murder mystery party kits advise around 12 people, with 15 pushing the limits. We had 27. How was a team of 2 people, with very busy lives, going to take on a murder mystery party where we had to tie 27 stories together and keep a group in their mid 20s engaged and excited for something that was 3 months away? Alas, my cohost and I are not ones to back down from a challenge, so we steeled our jaws and set forth!
Step 2: Organizing
Google Docs and Skype were a godsend in collaborating with a teammate across country.
Step 3: Story Time!
We would become the Syndicate, a collective of evil doers who each made the world a worse place to be in. Every character created kept the individual in mind and accentuated traits about themselves or personas they personally enjoyed acting in. Don't we look absolutely villainous?
Step 4: Invitations and Initial Branding
We wanted to tantalize our guests from the very start and decided on personalized, red foil printed names on black handmade envelopes. Everyone would receive an invitation with an announcement of the party, broad details of the murder, an RSVP challenge, a character's business card complete with teaser info of their character and logo. All was enclosed by a Syndicate brand wax seal.
Step 5: Social Media and Challenges
Facebook was used to get a general idea of the guestlist and to have a place where people could go back to for details conveniently. The Syndicate instragram account was created to further support the game. To RSVP, all guests had to take a picture with their cards, logo visible. The photos were posted on both accounts and we saw an interesting rise in guest participation. The audience really took to their characters and even for a simple rsvp they went all out to dress up and really sell the picture. Later challenges would include people bringing items to better enhance their costumes for the party, and we released important information pertaining to the case the closer we were to the party.
Step 7: Party And Deeper Tales
Time to Party! The final and realest challenge was now to make sure 25 guests (27 including the hosts) would be able to move along the story during a party. This was the riskiest part of the whole venture. The weeks leading up to the party, Dan and I scrambled to find the ties between characters and plotting the murder of one of the guests (fictionally, of course). We had to find a balance between overly simple and too complex when it came to the story. Several red herrings were used and we were unsure how to test people's journey on this. We consulted people outside the guestlist for opinion and got 50% success rate in solving some of the clues. The overall story we didn't have time to finish till hours leading up to the party so that remained untested.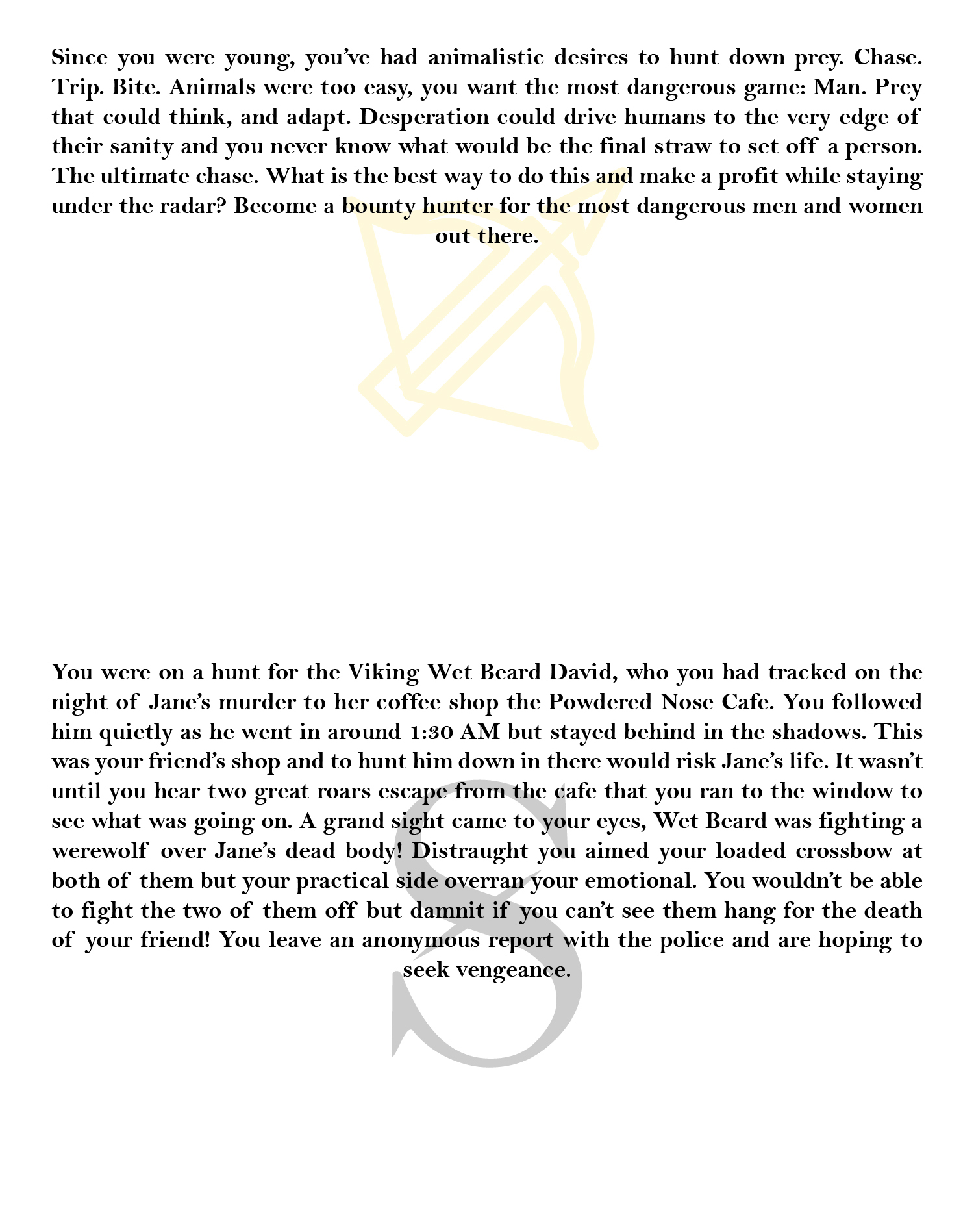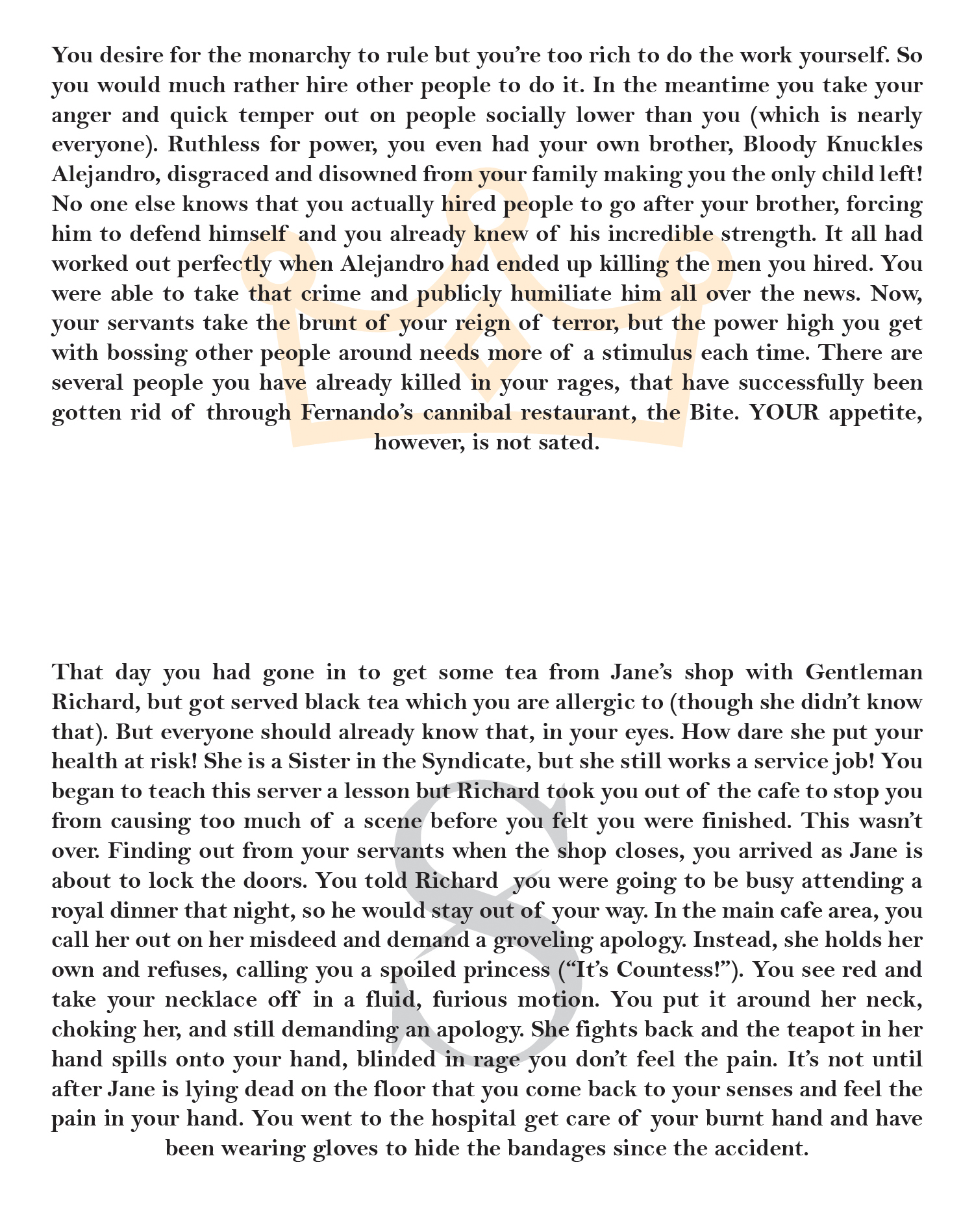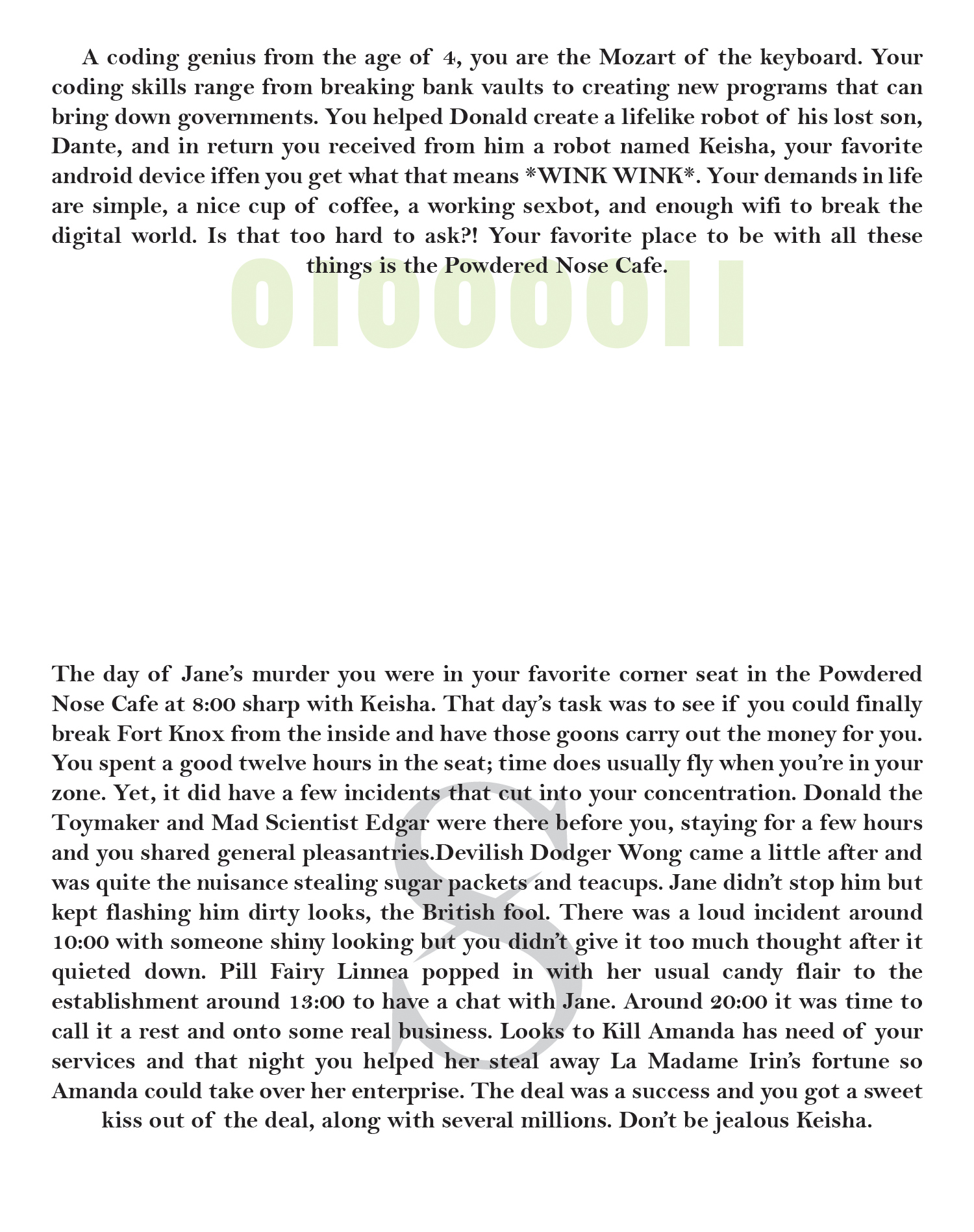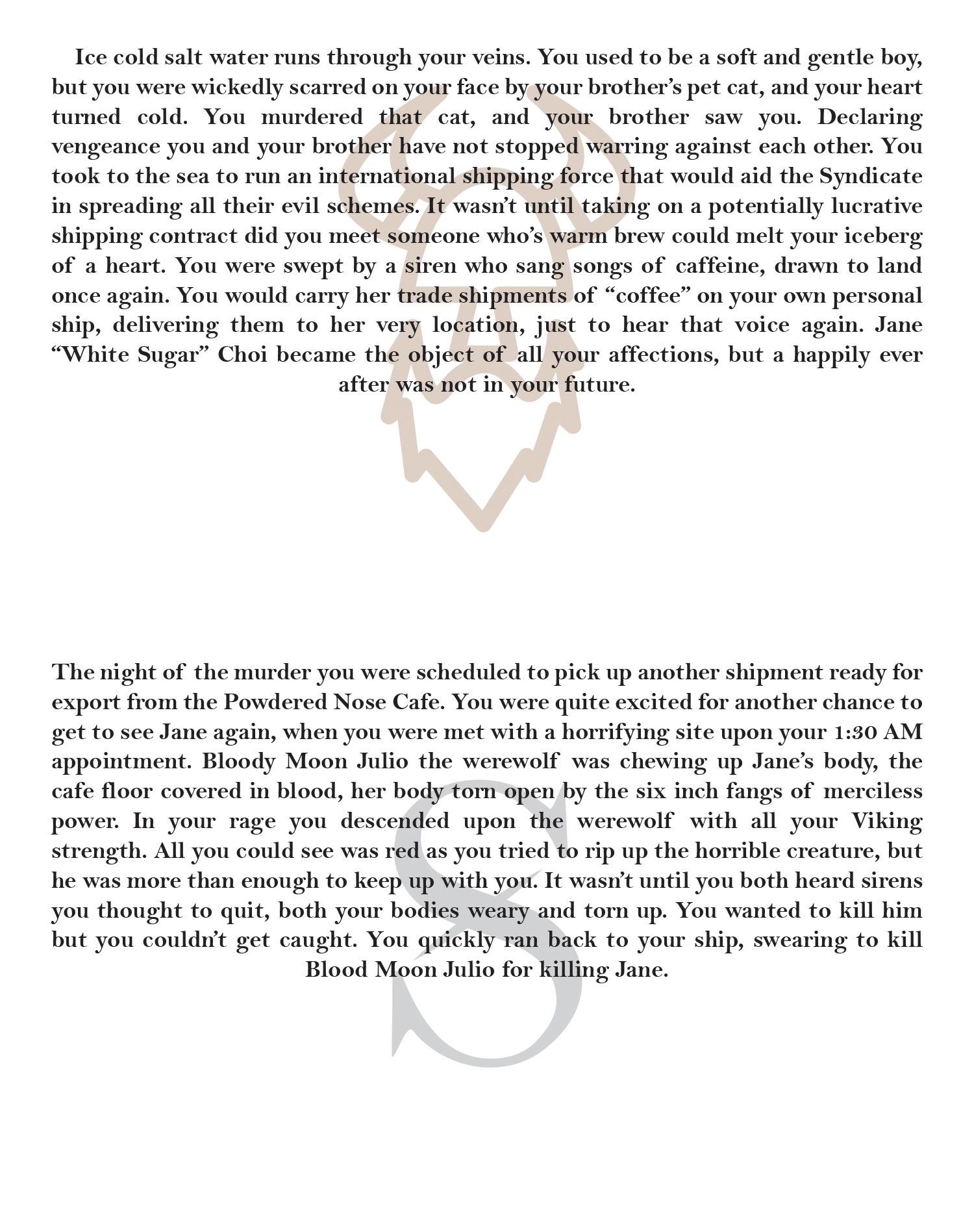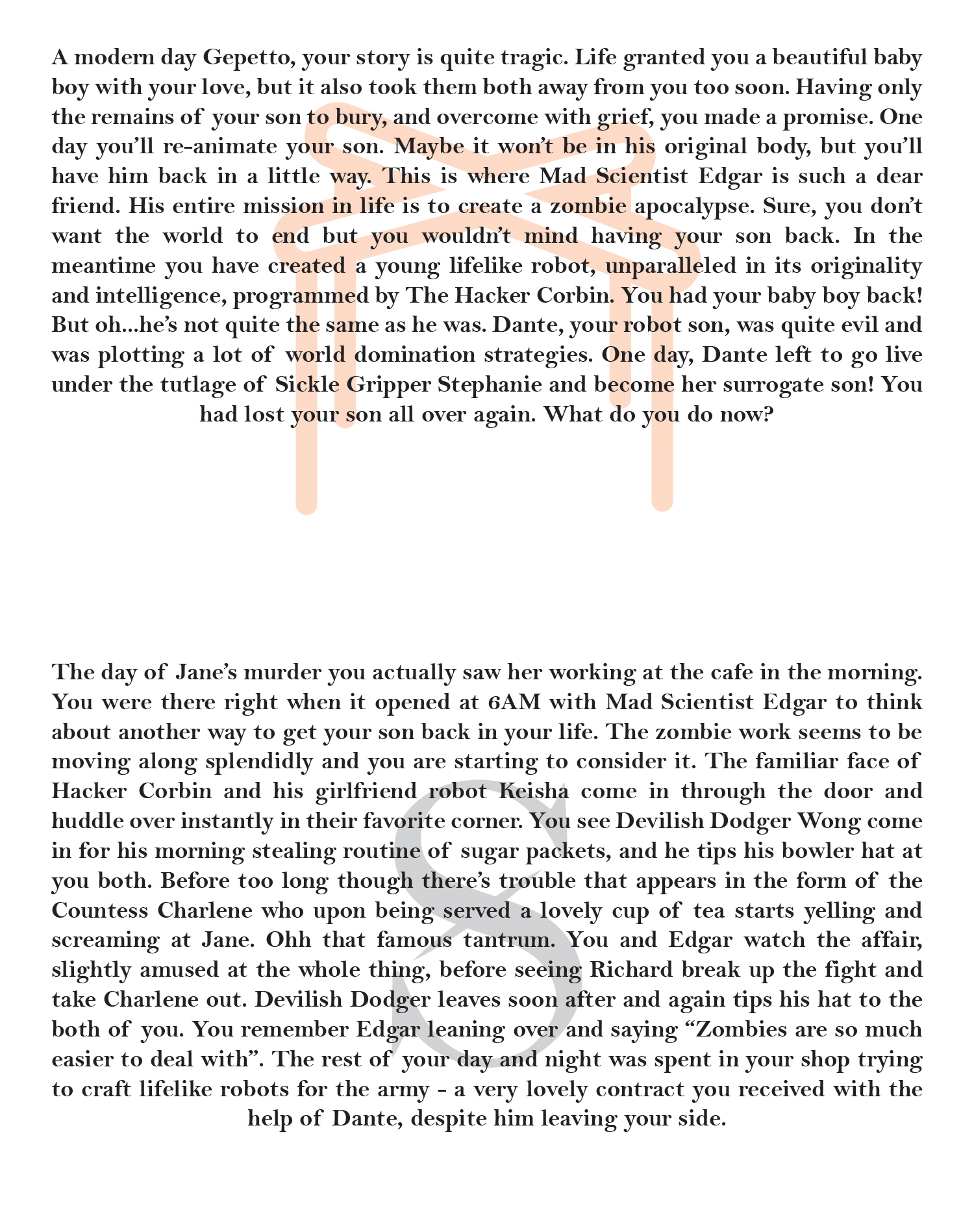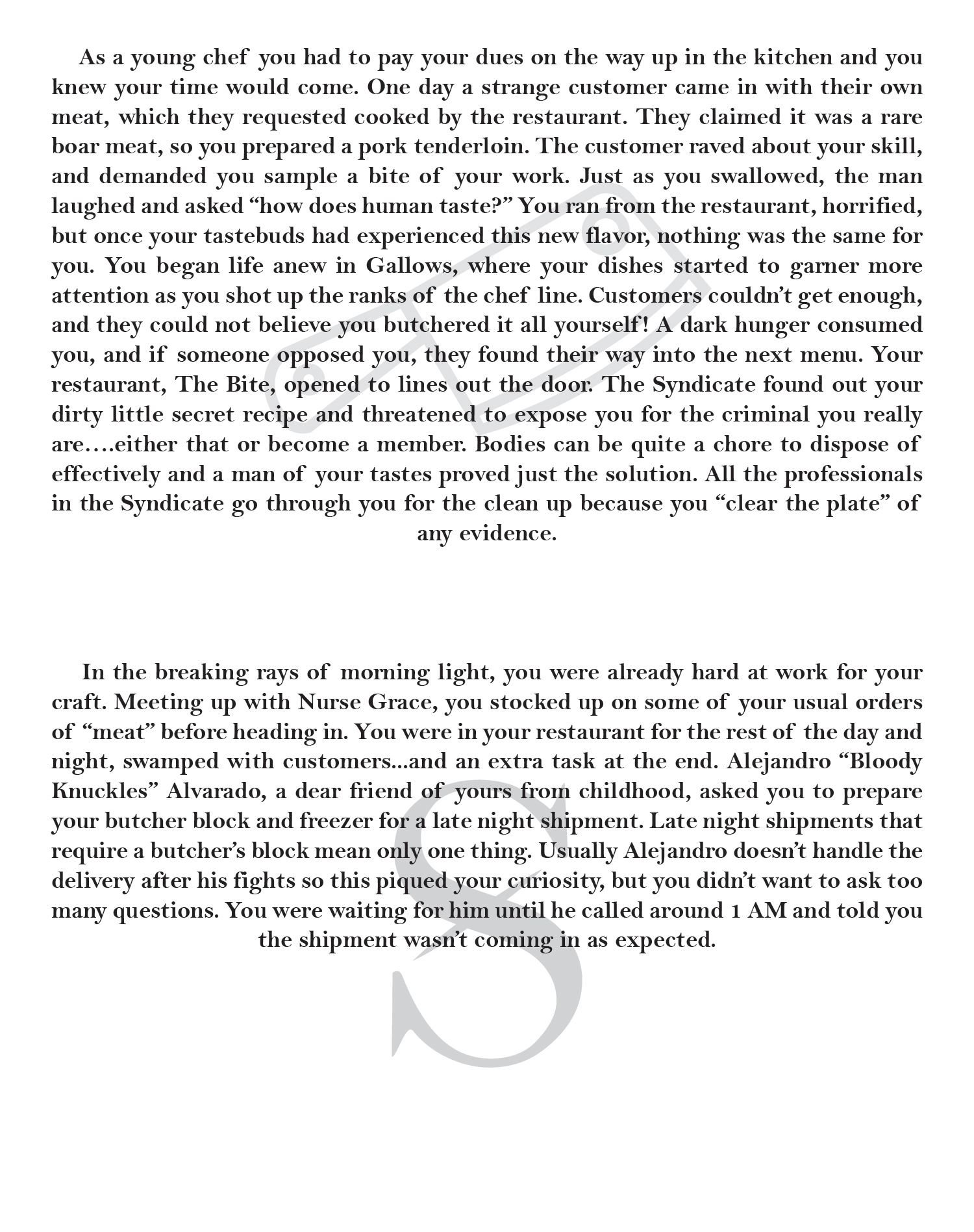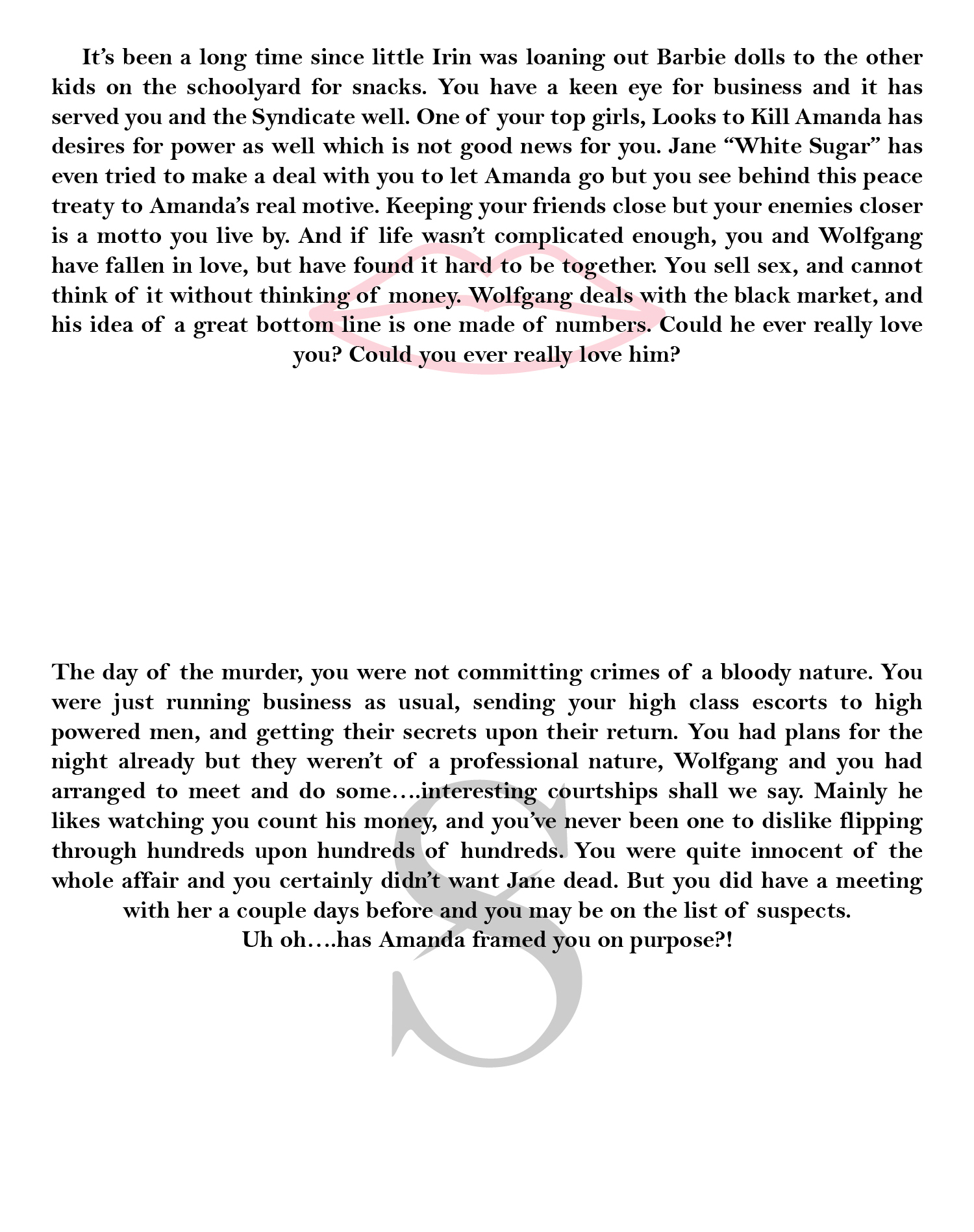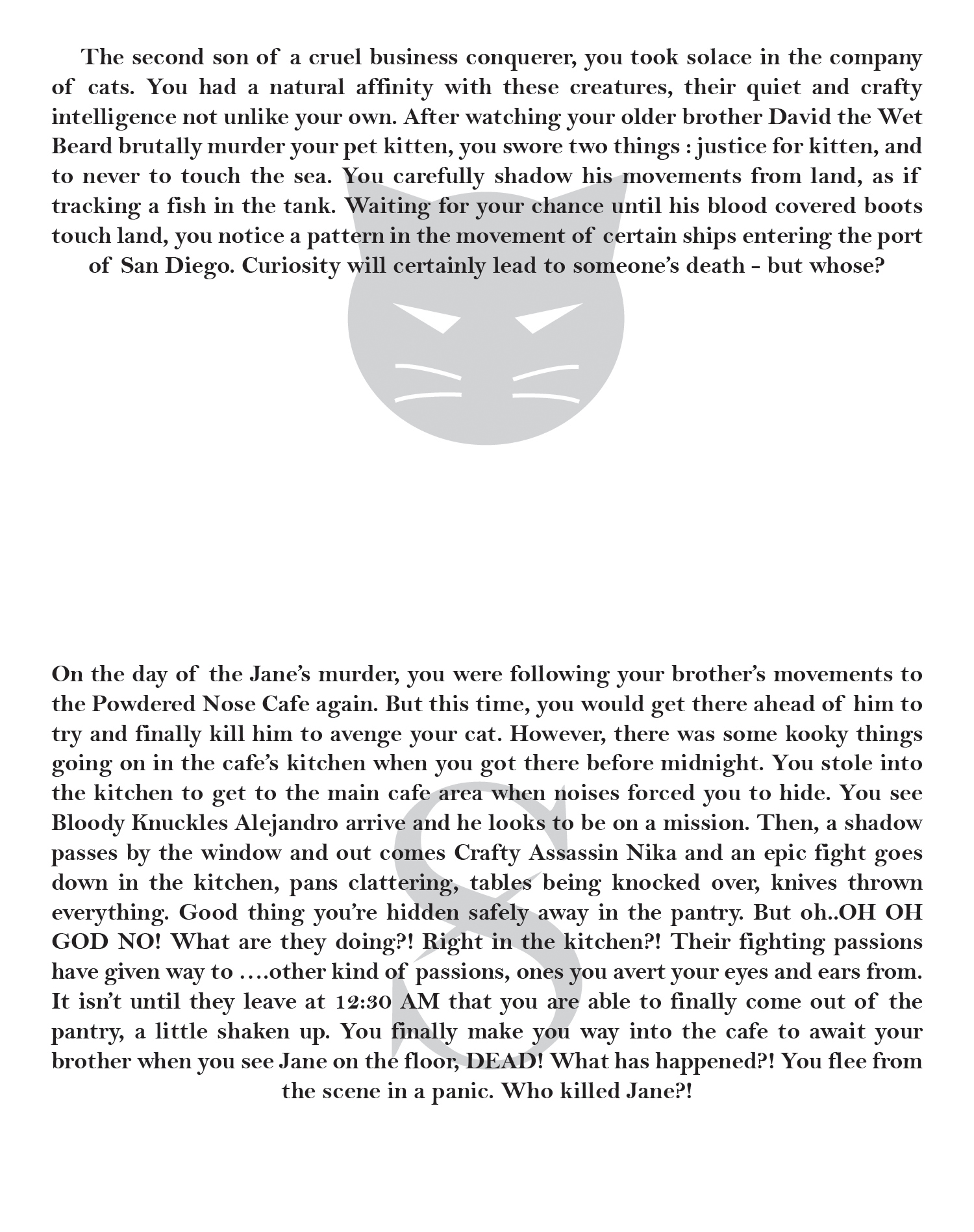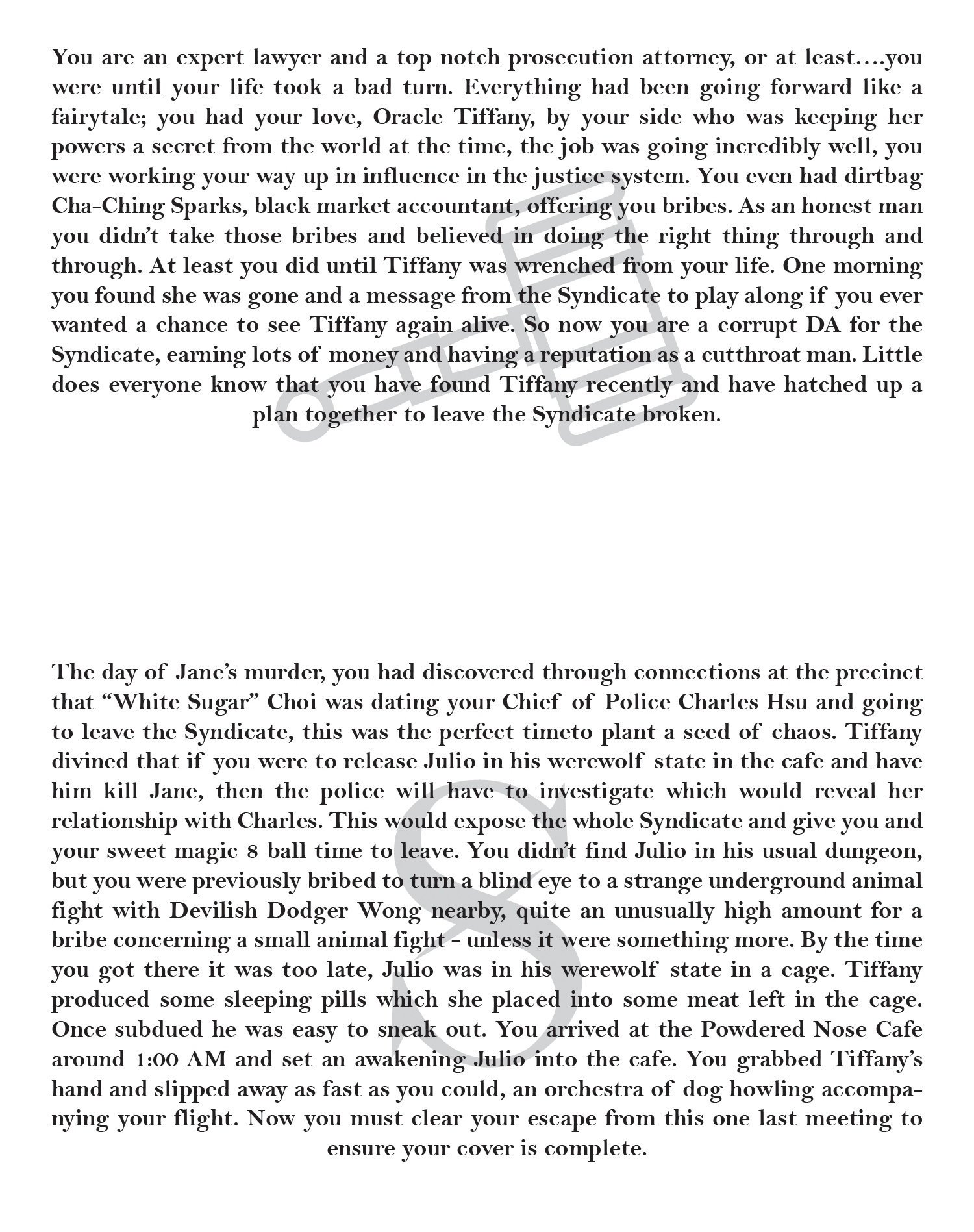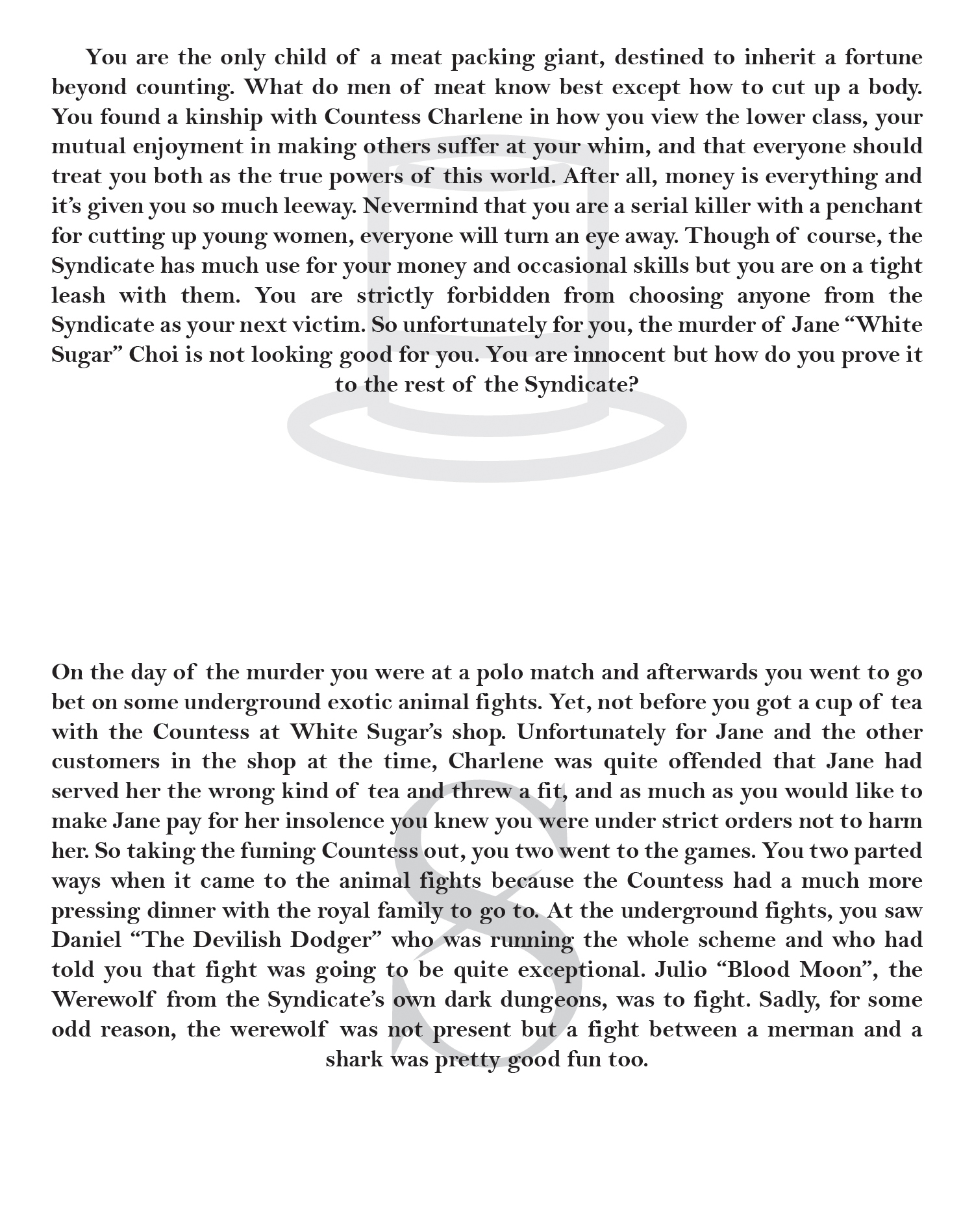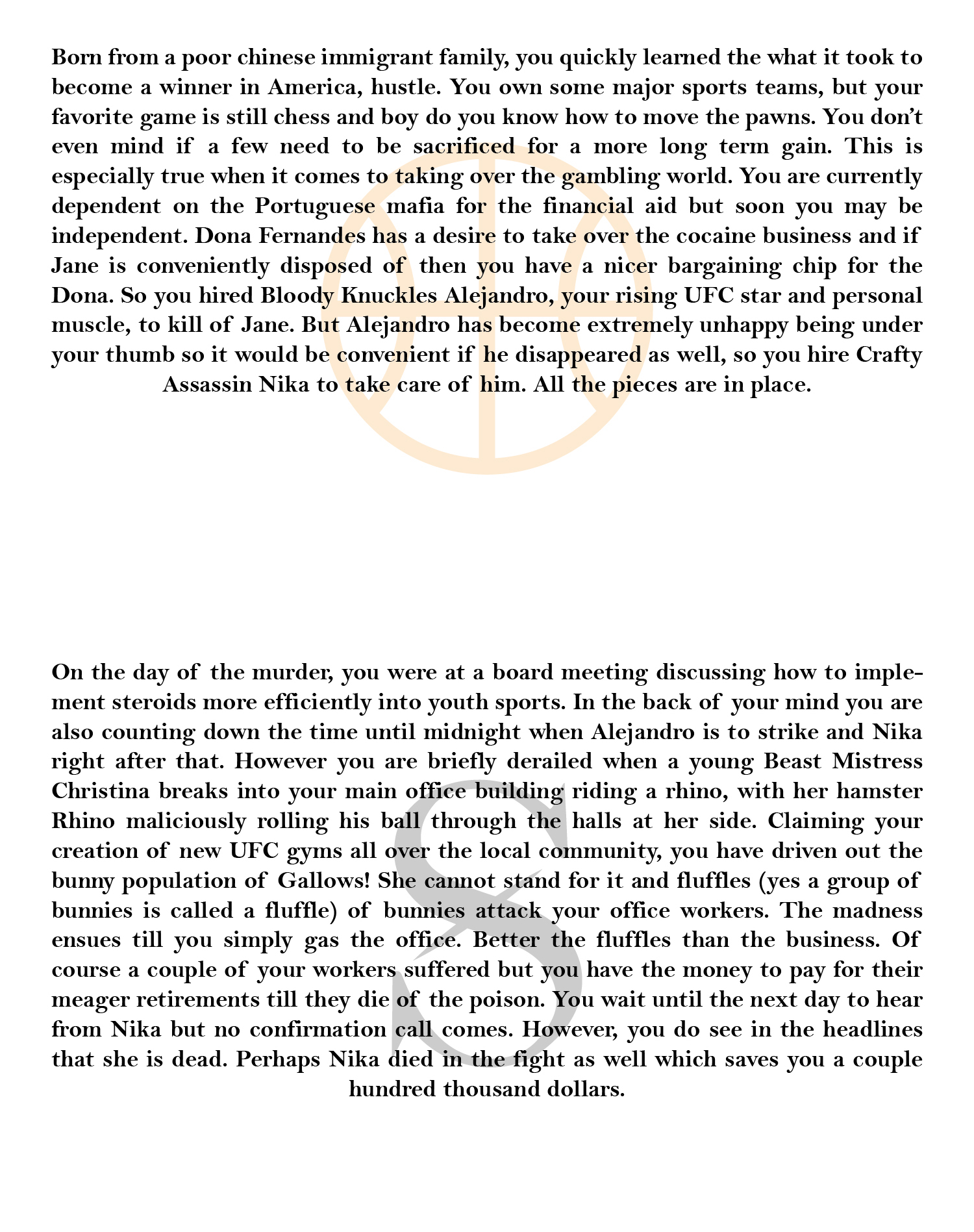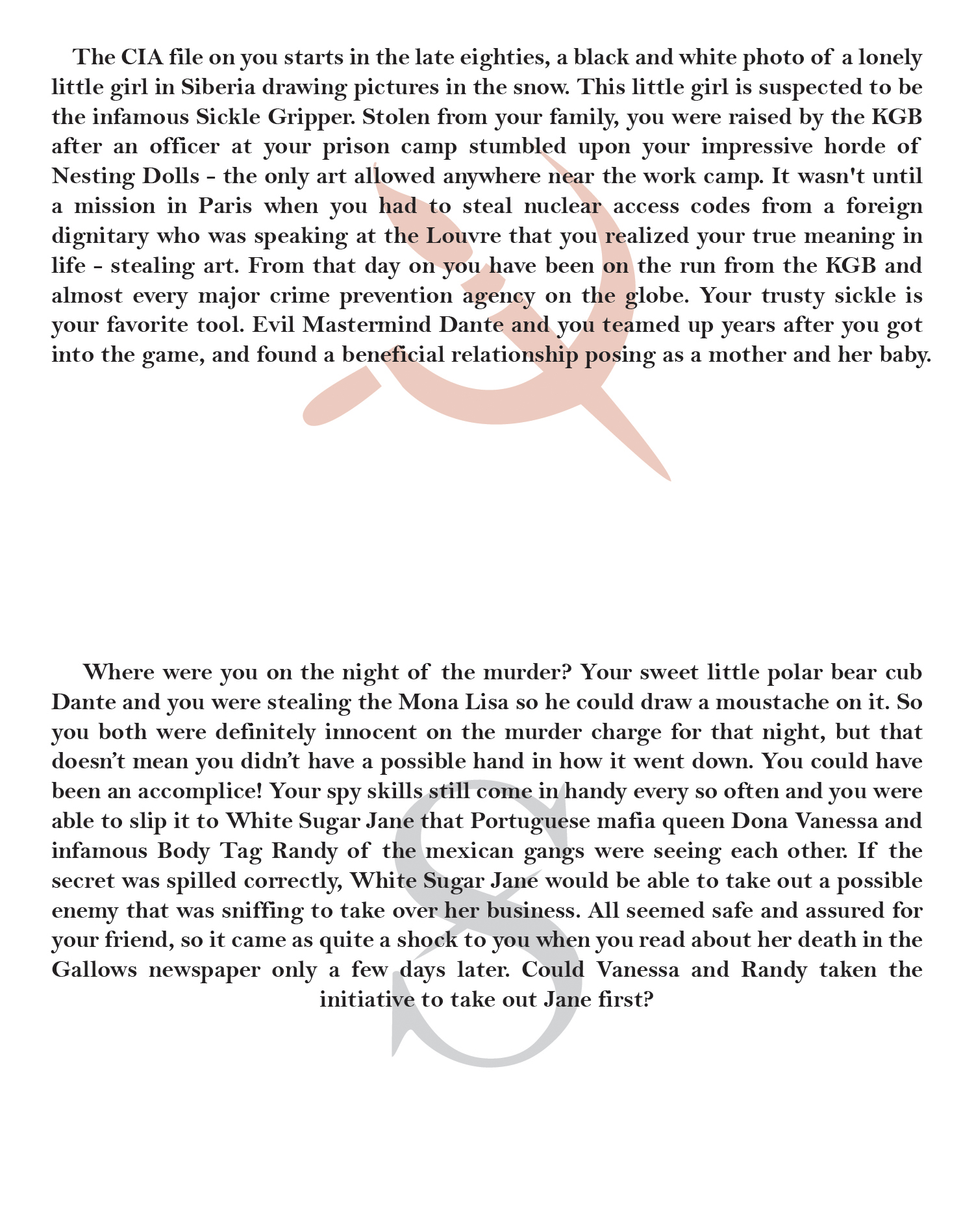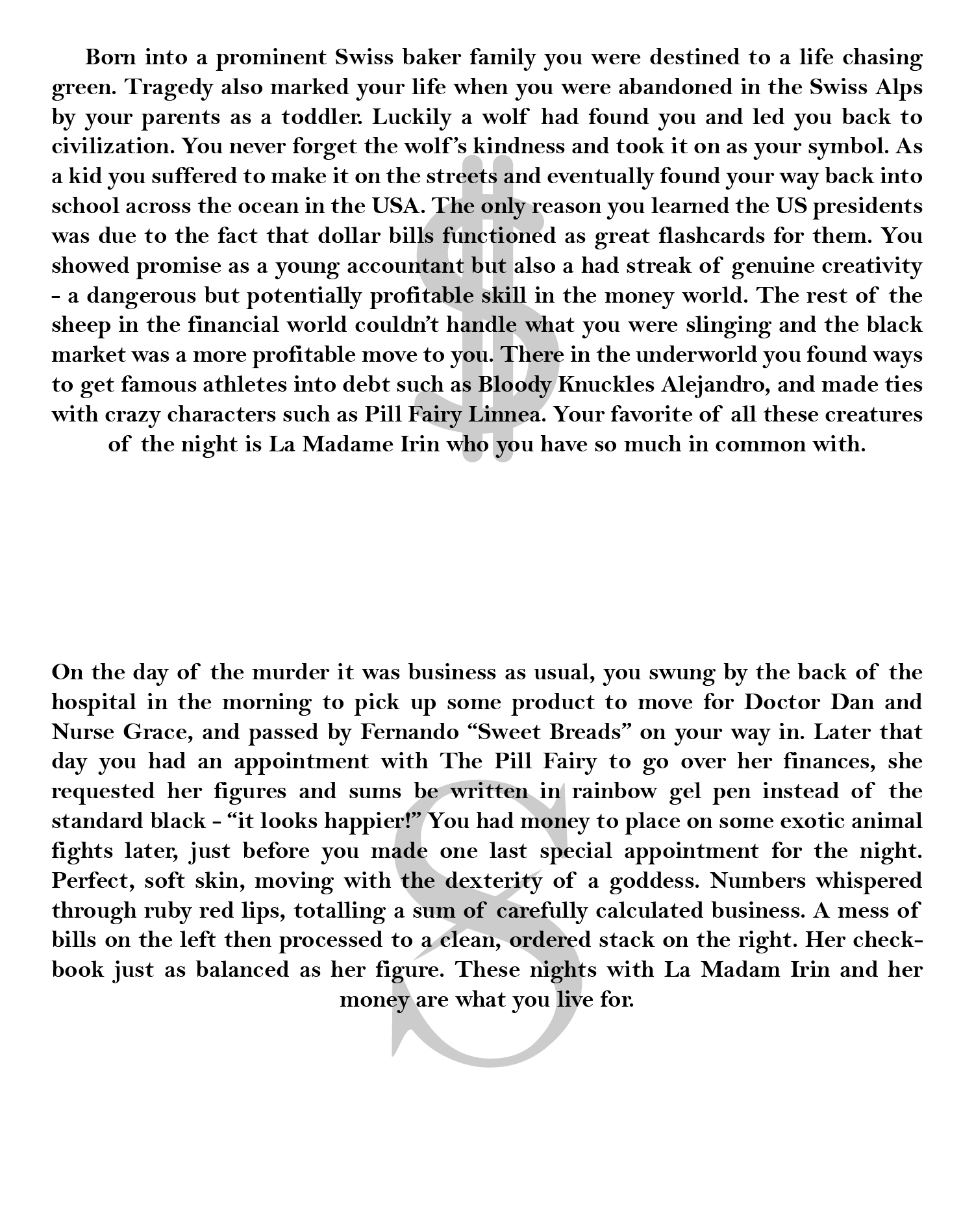 Conclusion
There were a lot of things that we learned after the cans were all thrown away and the streamers torn down from the ceiling. We had put in too many red herrings and should have stipulated that people tell the truth. Allowing "lying" in the game confused everyone on what was true and what was fake. There were security measures in people's stories where on the day of the murder, each character was seen by at least two other people. With the sheer amount of characters involved it would have taken more than 3 hours for the measures to have worked properly. As hosts, Dan and I should have given the guests more clues as time winded down. However, even with these small hiccups the party turned out a success! The zany characters and interaction challenges really hyped everyone up and was a murder mystery experience unlike any other.